very very familiar
to me: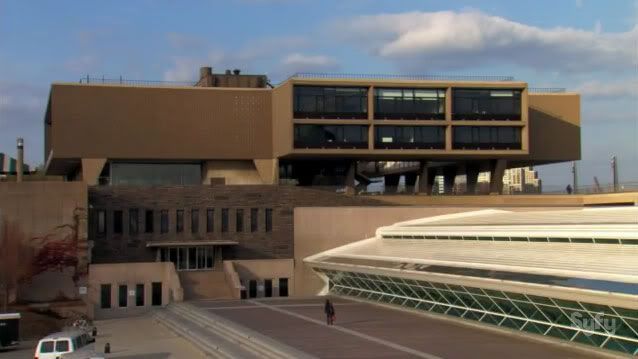 (this shot is about 21:50 minutes into the ep, see it on Hulu)
This is the exterior of the "warehouse" where Henry meets with Allison and Jack to explain about the gravity weirdness. Well, what is this actually? *g* It's Milwaukee! In specific, it's the art museum and war memorial. Below the cut are pictures I nabbed from around the net to get some references to confirm this. Actually also sent a tweet to @CharlieCraig to find out if he has any info about it.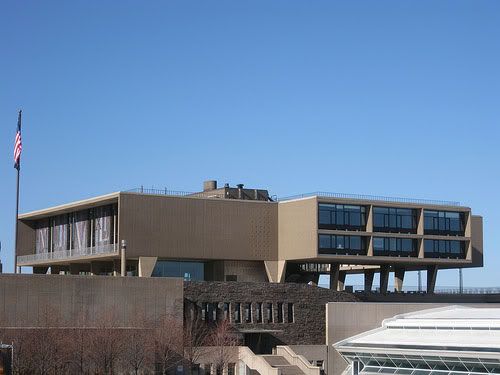 The war memorial is the structure up top (lighter gray). The lower stone building and the section of white you see is the art museum.
These above two are the ones that best work toward getting the similar shot from the show.
This is a bigger shot of the area. The wings (which open when the winds aren't too bad) are the mega claim to fame.
(Same architect as the Sydney Opera House)
This pic isn't real clear, but there's a bridge that extends from a parking lot to the entrance under the wings. I think the shot in the show was likely from the bridge view. Or the stairs leading down. Whatever, I'm not a photo expert. *facepalm*
From
unfriendlypanda
:
The 'wings' are part of the Quadracci Pavilion which was designed by Santiago Calatrava. What you're seeing in the Eureka screen grab are parts of three buildings designed by Eero Saarinen, David Kahler, and Santiago Calatrava.
Anyway, I got all excited to see my hometown connected with Eureka. =D =D =D Go, go Milwaukee, Wisconsin!
UPDATE:
Charlie Craig confirmed it! =D "
@charliecraig: You are correct! The shot is a side view of the Milwaukee County War Memorial Center, Architect Eero Saarinen, dedicated 1957.
"
Finally got around to watching last week's new episode "Welcome Back Carter" and I'm watching, and tweeting a bit... Then after the commercial break following faux-sheriff's trick as a pancake there's a stock shot of some place
Current Mood:

pleased